Rembrandt is so uniquely and scientifically designed that it pierces through surface impressions and gets to the person's "TRUE SELF."
Rembrandt Portrait tells you what you need to know - Who the person is, how they will perform, and whether you should hire the person and/or continue to invest in them. Rembrandt Portrait is a highly valid personality assessment profile that has no adverse impact on protected groups. It can predict success on the job with 85.5% accuracy and can identify top talent with 97% accuracy.
If your job is to hire, retain and develop a superior work force you should be using the Rembrandt Portrait.
What Does Rembrandt Portrait Measure?
Rembrandt Portrait accurately measures the 14 inherent qualities that make up the human personality and predict job success. After a person completes the Rembrandt Portrait, our trained Talent Advisors and customized reports will provide a comprehensive assessment of the employee or job candidate's inherent qualities and will tell you how well they match the critical competencies required for your position. From administrative, front office and client service representative to sales, leadership, technical and creative positions. The Rembrandt Portrait will allow you to hire and develop only the very best employees.
Examples of what you will learn with The Rembrandt Portrait:
How the person thinks and solves problems
The strength of their relationship building, interpersonal savvy and service motivation
The way they communicate, lead, negotiate and close sales
Their initiative - how well do they plan and execute, drive performance and stay on top of their work and objectives
Rembrandt gets to a person's true self allowing you to see who they really are and how they will perform. Just imagine how much more successful your company could be and the employee productivity you would unleash if you knew every employee's true capability?.....You could:
Always hire top talent and target essential learning
Identify and develop effective/future leaders
Create a culture of achievement
Retain top people
Become employer of choice!
We welcome a conversation with you to see how we can help change your world!
Organizational Impact of The Rembrandt Portrait
To understand the transformative power of The Rembrandt Portrait and the way it can support organizational achievement and your ability to hire, retain and develop a world class workforce we first must look at workforce competencies and their construct.
By definition, a competency is a person's skill, knowledge and ability for a purpose. Purpose is defined by the job's objectives, knowledge is what the person has learned and knows and, skill is the demonstrated behavior you see and observe. Ability is the innate strengths of the person - what they bring to the equation - their drives, motivations, predilections, core capabilities and limitations. It is who the person is and how they work and perform.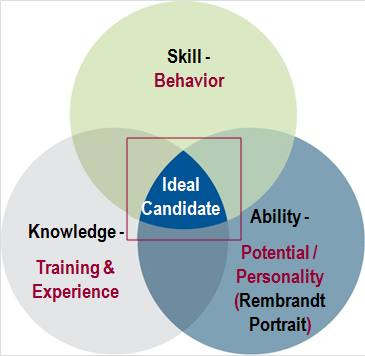 As you see in the above graphic, "Ability" is a critical component of every competency, so no complete competency exists if the person lacks the "Ability" or potential to perform. Sometimes an employee can perform satisfactorily because of their technical capability or interpersonal skills alone, but if they lack the "Ability" to perform, the innate potential, the statistical probability is they will not achieve top performance. It's like a high school student who wants to play pro basketball but is only 5' 6" tall. What are the chances that he or she will possess the extraordinary talent required for them to overcome their lack of height or "Ability?" It's certainly possible, just not probable. And when hiring and developing Top Talent, you must be able to predict an individual's performance and potential with high certainty.
It therefore becomes critical for every person's "Ability" to be measured and quantified (psychometric analytics), whether a job candidate or current employee, if we are expected to make effective decisions regarding the way Top Talent is secured, retained and developed. By measuring "Ability" we will know how the person fits the job, what can be done to support and lead them and where their potential will allow them to grow within the organization. This is where The Rembrandt Portrait plays a strategic role; Helping you hire the very best then developing your people and organization to their greatness.
It starts with The Selection Process