Rembrandt Portrait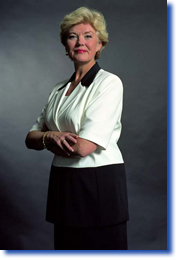 Introduction to Rembrandt Portrait ®
Rembrandt Portrait is a sophisticated assessment tool designed to unveil a series of personality characteristics common to all of us. Rembrandt Portrait will help you to understand the critical and differentiating abilities that lead to superior performance in either a potential job candidate or an existing employee.
When Rembrandt Portrait is used as an integral part of your hiring and employee development process, it will prove to be invaluable, providing the important information you need to make effective personnel decisions. Used in combination with interviews, background checks, other selection processes and personal development plans, Rembrandt Portrait can substantially improve the quality of your staff and the performance of your firm.
Seven reasons companies rely on the power of Rembrandt Portrait:
Select the right person for the right position
Substantially reduce employee turnover
Increase employee productivity
Increase corporate performance
Target employee learning and development needs
Employee career management
Succession planning
What Does It Measure?
Rembrandt Portrait accurately measures 14 inherent qualities that make up the human personality. After a job candidate or current employee interacts with the program, our trained evaluators and customized reports can provide insights into over 50 competencies as they relate to the individual's job performance.
Rembrandt Portrait can easily assess these and many other competencies:
Ability to Focus / Ability to Prioritize Work and Time / Ability to Work Independently / Aggressiveness / Communication Skills / Decision Making / Dependability / Detail Handling Ability / Follow Through / Initiative / Innovation / Interpersonal Effectiveness / Judgment / Leadership Ability / Listening Ability / Personal Organization / Problem Solving / Sales and Closing Ability / Self-Confidence / Self-Discipline / Sense of Urgency / Service Motivation / Stress Tolerance / Willingness to Follow Process and Rules
Reduce Employee Turnover
The bottom line is that employee turnover is costly. Studies show that replacing an hourly wage worker costs 75% of their year's wage, and replacing a salaried employee costs as much as 150%! Add to this the hidden costs of extra staffing, job interview time and lost opportunities, and it becomes imperative to reduce employee turnover.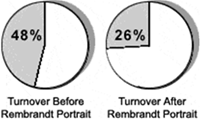 Rembrandt Portrait repeatedly lowers turnover rates and removes turnover related costs in company after company with the simple philosophy of placing the right person in the right position the first time.
In one year, this national staffing services firm reduced employee turnover by nearly half when using Rembrandt Portrait. In a territory that did not implement Rembrandt Portrait, turnover increased by 2% during the same period.
Increase Employee Productivity
The cost of replacing an employee is often preceded by a slow drain on productivity. Rembrandt Portrait heightens your ability to recognize hidden productivity problems. It is designed to help you maximize your company's greatest resource - your people - by enabling you to more fully evaluate an individual's suitability to a job position and to target their development needs.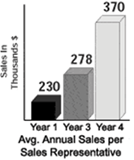 By matching the skills, knowledge and abilities of candidates, Rembrandt Portrait heightens your ability to recognize hidden productivity problems. It is designed to help you maximize your company's greatest resource - your people - by enabling you to more fully evaluate an individual's suitability to a job position and to target their development needs.
Only four years after developing a selection model and implementing Rembrandt Portrait, this national health care company saw individual sales representative production increase by $140,000 per person.
Scientifically Proven Accuracy
Because we are all unique, Rembrandt Portrait has been rigorously tested for accuracy, predictive ability, reliability and for any impact on protected classes of employees. While most firms undertake one form of study to validate their profiles, Rembrandt Portrait is validated using three established study methods, making it one of the most rigorously tested profiles available.
Phase One Validation
The first method used to measure Rembrandt Portrait's assessment capability was to compare the Rembrandt Portrait findings to those of known comparable assessments. This was done by the NeuroCommunications Research Laboratories in Danbury, Connecticut, using a matching cross-section of the U.S. population. Rembrandt Portrait withstood the scrutiny and proved to be more predictive and reliable than most other profiles of its kind.
Phase Two Validation
The second study method employed to validate Rembrandt Portrait was to assess 3,000 working individuals, again representing a matching cross-section of the U.S. population. Profile results proved to be 93% accurate in describing their personalities.
Phase Three Validation
This method of validation is perhaps the most important of all. Researchers secure performance ratings on individuals who are profiled pre-employment in a variety of industries and correlate Rembrandt Portrait findings to them. Depending on the industry studied, between 83% and 92% of recommended candidates rate as either "meets" or "exceeds" position requirements.
In all phases of validation, Rembrandt Portrait holds up as one of the most valid, reliable and predictive employee assessment tools ever created.

Validation Study #1: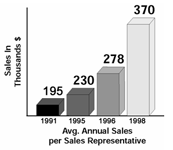 This study was conducted within a health care company employing 18,000 people and tracked the productivity of this firm's sales force over an eight-year period, spanning 1991 through 1998. From 1991 to 1994, the firm used conventional means to recruit, interview and select their sales representatives. During this time, individual sales productivity increased slightly, averaging 4% per year. In 1994 they added Rembrandt Portrait into their selection process. As shown by this graph, per-person productivity then soared, with a four-year increase in performance of 60%, or $140,000.00 increased performance per sales person.
Validation Study #2:
This study was conducted within the Northwest division of an insurance and financial services firm employing over 4,000 employees. This study tracked the performance of new employees for all positions over a 2-year period and quantifies employee performance by recommended group - those candidates identified as "job matched" and those identified as "not job matched."
85.5% of candidates recommended by Rembrandt Portrait were rated as "meets" or "exceeds" position requirements, compared to only 37.2% of not-recommended candidates. Recommended candidates were nearly 2.5 times more likely to succeed than were not-recommended candidates
36.1% of recommended candidates performed at an "exceeds" position requirements level compared to only 2.9% of those not recommended. A staggering 97% of all superior-performing candidates were recommended
Only 14.5% of recommended candidates failed to perform to position requirements compared to 62.8% of those not recommended
Only 10.8% of recommended candidates turned over within 18 months of being employed compared to 51.4% of those not recommended
BOTTOM LINE: Rembrandt Portrait predicts on-the-job success with an uncanny 85.5% degree of reliability, and predicts superior performers an impressive 97% of the time. No wonder it's been endorsed by such prestigious national trade organizations such as the American Staffing Association, The Council of Public Relations Firms Manufacturers' Agents National Association, and many others.
Q: Is Rembrandt Portrait fair to all groups of people?
A: Yes. Rembrandt Portrait is not only highly predictive, but also has no adverse impact on any protected classes of employees. In fact, it actually supports fair and equitable hiring practices by identifying the right person for the right position…regardless of age, sex, race, religion, national origin, and sexual orientation. Rembrandt Portrait matches the person to the position, and eliminates any consideration of non-valid hiring criteria, focusing solely on the candidate's ability to perform the job.
Q: How much does it cost?
A: Pricing options are available for every budget and hiring need. Call us now at: +1 760-318-3710, Toll-Free: 800-292-7182