CareerNavigator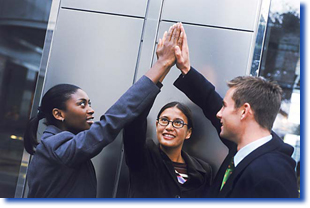 Introduction to the Rembrandt CareerNavigator™
The Rembrandt CareerNavigator is a multi-rater performance evaluation tool that identifies employee competency, performance trends and learning and development opportunities. It can simplify, shorten, and improve your employee appraisal and career planning process. It also offers key solutions to busy line management by being self-empowering, easily administered, cost-effective, and time efficient.
The System
The Rembrandt CareerNavigator system offers your employees performance feedback provided through a fully automated, real-time, interactive performance system capable of measuring the employee's performance and benchmarking this performance to that of the top 10% of the employee's functional peer group. It is a multi-rater system, providing a 360-degree view of the employee's performance through self-assessment, as well as manager and peer ratings. This system allows the entire review and feedback process to be completed in less than 30 minutes per employee.
Output
The Rembrandt CareerNavigator outputs data into online reports, which are accessible only by authorized persons, and can be printed or viewed online at any time. The output includes a personalized development plan for the employee. When an individual's performance falls short of the benchmark performance for any factor, the specific performance factor will be identified as "in need of development". Also outlined on the planner will be any and all of your company's internal or recommended programs that may assist the employee in developing individual development goals.
Rembrandt CareerNavigator™ FAQ
A: CareerNavigator is a multi-rater performance evaluation tool that helps make good employees great. It identifies competencies, performance trends, and learning and development opportunities. It simplifies, shortens, and improves your employees' appraisal and career-planning process. It's easy to use and quick to administer: all you need is a PC and internet access. Results are instantly tabulated for your review.
Q: What is "multi-rater" feedback?
A: Multi-rater feedback is the process of gathering and comparing information about a person's performance, then measuring it against other data (such as confidential feedback collected from your top and bottom performers via confidential interviews.) It relies on more than one person's feedback, so it provides a more complete picture of your employees' strengths… and what traits they need to develop to achieve their goals. Most importantly, because more than one person is involved, it eliminates the bias that often occurs when only one person performs the review.
Q: How does "multi-rater" feedback compare to "360-degree" feedback?
A: Here's a simple example: Bob is a salesperson. "360-degree" feedback involves getting input from co-workers all around him, regardless of job function (hence the term "360-degree"): like his secretary… the company receptionist… the manager in the print shop… and others whose positions aren't related to Bob's. They may think Bob's a great guy, but know little about his performance.
CareerNavigator, on the other hand, uses feedback from either those co-workers you select from similar positions… a benchmark your company has established… or from our own pre-established performance models created from our vast experience and understanding of the performance requirements for similar job roles.
Q: How does CareerNavigator work?
A: Rembrandt CareerNavigator is a fully automated system that provides powerful feedback to your employees through a completely automated, real-time system. CareerNavigator is capable of measuring your employees' performance and as an option, comparing it to the top 10% of their own peer group. As a multi-rater, it provides a robust review comprised of self-assessment, management, and peer ratings.
Q: Is CareerNavigator fair to all groups of people?
A: Yes. As a multi-rater system, CareerNavigator avoids the bias sometimes associated with a single rater. That's because feedback comes from not just one, but a number of individuals. That means bias due to race, age, gender, etc., is dramatically reduced.
Q: Are CareerNavigator results easy to understand and apply?
A: Yes! CareerNavigator is a practical tool that's easy to implement and apply the data it reveals.
You'll know in which areas each employee needs development, and where they can leverage their strengths. Supervisor Password Protection assures that all results remain confidential, and keeps you in complete control of the process at all times.
Q: How much does CareerNavigator cost?
A: Pricing options are available for every budget. Call us now at: +1 760-318-3710, Toll-Free: 800-292-7182